Luxury Lingerie, Nightwear & Hosiery
Your Premier Online Boutique for Designer Lingerie, Blending Timeless Elegance with Cutting-Edge Styles to Ignite Desire.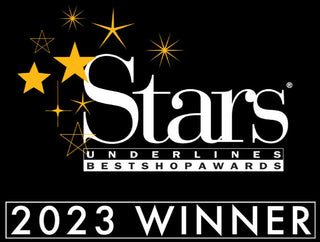 We are absolutely thrilled to have won the award for E-TAILER OF THE YEAR 2023 at the Stars Best Shop Awards by Underlines Magazine.
THANK YOU to our customers, suppliers and partners, for even making this possible, and a huge congratulations to all other award winners and finalists. Thank you to the Underlines Magazine team for organising such a fantastic event.
With so much gratitude,
Sarah & Emma x
Stars 2023 was the 15th edition of this unique event solely designed for the intimate apparel and related sectors. It is a national ceremony to highlight the strength and uniqueness of our sector. And unlike other award events the nominees and finalists cannot put themselves forward for an award. They are given on merit alone.
Naughty Knickers: Elevating Your Intimate Style
Established in the UK, Naughty Knickers is a premier online destination for discerning individuals seeking high-end women's lingerie, luxury nightwear, hosiery, and swimwear. With a global customer base, we pride ourselves on offering an exquisite collection that caters to diverse tastes and desires.
Our carefully curated selection showcases an extensive range of tantalising choices, ensuring that every woman can find the perfect piece to accentuate her unique allure. From delicate underwired bras and daring quarter cup bras to alluring thongs, briefs, boy shorts, and Ouvert knickers, we have it all and more. Our commitment to quality means that every item is crafted with meticulous attention to detail, using luxurious fabrics and featuring impeccable design.
At Naughty Knickers, we understand that luxury lies in the art of choice. That's why we stock an impressive array of renowned brands that embody sophistication and sensuality. Explore our collection, and you'll discover coveted pieces from industry leaders such as Aubade, Agent Provocateur, Coco de Mer, Lise Charmel, Maison Close, and Simone Pérèle. These brands have earned their reputation for creating lingerie that embraces femininity, elevates confidence, and ignites passion.
Beyond our exceptional product range, Naughty Knickers is committed to providing a seamless shopping experience. We prioritise customer satisfaction by offering speedy delivery and responsive customer service. With our user-friendly website, you can effortlessly browse our extensive catalogue, easily find your desired items, and place your order with confidence. We recognise the importance of discretion when it comes to intimate purchases, and we ensure that your privacy is protected every step of the way.
Whether you're indulging in a personal treat or searching for the perfect gift, Naughty Knickers is here to help you create a memorable shopping experience. Our team is passionate about assisting you in finding the ideal lingerie or nightwear that will make you feel beautiful, empowered, and utterly irresistible. With our commitment to quality, exceptional service, and an enticing selection of luxurious lingerie, Naughty Knickers is your ultimate destination for indulging in your desires and embracing your inner seductress.